LAKEFRONT

ENTERPRISES, INC.

HOME
ENVIRO - BOND ™
ENVIRO - BOND ™ FAQ.
VIDEO.
BILGE SOCKS.
SAFETY SEAL.
CONTAINMENT BOOM.
DRAIN PROTECTOR ®
PRODUCTS.
DOCUMENTS.
ORDER .
E-MAIL .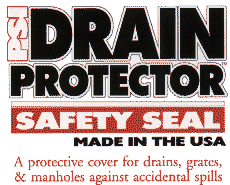 These chemicals are compatible for use with
DrainProtector® SAFETY SEAL
Aluminum Salts
Barium Salts
Butanol
Boric Acid
Calcium Chlorite
Cupric Chloride
Formaldehyde

Gasoline
Glycol Ether
Hexane
Jet Fuel (JP-5)
Kerosene
Methanol
Mineral Oil

Naphtha
Propylene Glyco
Sodium Hydroxide (50%)
Tetrachloroethylene
Triethylamine
Turpentine
Water

CALL 1-800-888-5156 for complete chemical compatibility list

NOTE:

Always follow your state and local regulations regarding proper decontamination and waste handling procedures if the DrainProtector® Safety Seal comes into contact with hazardous chemicals.
Make sure the DrainProtector® Safety Seal is the correct size.


---

For best results, use a DrainProtector® Safety Seal that is 6" larger than the outside of drain.

Apply the DrainProctector® Safety Seal.


---

Be sure all stones, branches, or other debris is removed from the drain you are covering.
Remove the plastic film from the DrainProtector® and keep it to replace after use.
Place the DrainProtector® Safety Seal YELLOW SIDE UP over the drain, grate, or manhole you are sealing.
For a faster seal, you may step on the DrainProtector® Safety Seal. Never attempt this if the spill has already reached the drain.

Always wash the DrainProtector® Safety Seal before reuse or storage.


---

Wash the DrainProtector® Safety Seal in warm water with a non-abrasive detergent or petroleum solvent cleaner. Dry with a cloth and re-apply the plastic film.
Using the tube provided, roll the Safety Seal ORANGE SIDE IN and place it back into the box provided for storage. IMPORTANT: Do not store without protective plastic film.
Store the DrainProtector® Safety Seal out of direct sunlight.

Distributed By:
LAKEFRONT ENTERPRISES, INC.

LAKEFRONT ENTERPRISES, INC.
P.O. Box 573, North Hampton, NH 03862
Tel: (603) 964-2740 Fax: (603) 964-2739
E-Mail: berquist@enviro-bond.com
Web: www.enviro-bond.com